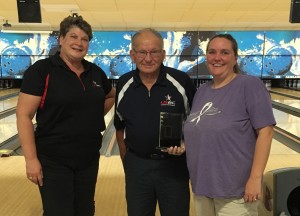 The first of just 3 Bowling Council events this season was held at Fairlanes Lanes, September 23rd. 13 bowlers competed in 4 games of qualifying, followed by a cut to the top 4, and elimination bracket match play to decide a winner.
Chelsey Purdum lead qualifying with 931, but in match play it was all Donna Marcus. After qualifying 3rd, Donna bested 2nd seeded Tanisha Burris 267-233. In the finals, Donna defeated Carole Morgan 212-179 to earn the victory. Donna took home $250 and the title. Carole finished runner-up, and took home $125.
Other cashers:
T-3rd: Chelsey Purdum, Tanisha Burris – $85
The post Donna Marcus Earns Budweiser Open Title at Fairlanes appeared first on The Bowling Council.