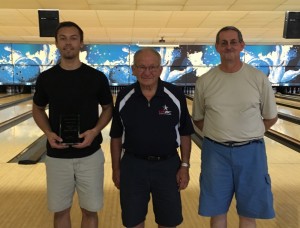 The first of just 3 Bowling Council events this season was held at Fairlanes Lanes, September 23rd. 47 bowlers competed in 4 games of qualifying, followed by a cut to the top 12, and elimination bracket match play to decide a winner.
Sam Brandt made his Council debut a good one. Sam qualified second, and had to bowl his brother Zach after he won his first round match. Sam won the family match, then defeated Eric Scott, and finally bested George Miller 279-224 in the finals to secure the win. Same took home $599 and the title, averaging over 242 for the day. George was runner-up, and took home $300.
Other cashers:
T-3rd: Brian Ivey, Eric Scott – $175
T-5th: Jason Butler, Zach Brandt, Chad Reiffer, Byran Eaton – $120
T-9th: Don Nyenhuis, Derek Nyenhuis, Rob Sloma, Dennis Johnson – $90
The post Sam Brandt Makes A Splash Winning The Budweiser Open at Fairlanes appeared first on The Bowling Council.