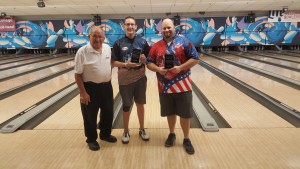 This past weekend there were 35 total entries in the PBR Henry Fox Doubles tournament held at Westgate. After cutting to the top 8, coming out on top was Matt Sumoski & Justin Knowles who just beat out Dennis Johnson and Mark Meinema 466-440 in the final baker game match-up. Matt and Justin also led the qualifying round with 1,914 pins after 4 games. Low to qualify this year was 1815. This year's tournament Hi-Game belongs to Dan Hudson who shot a perfect 300 in qualifying. Mike Horian had the highest qualifying series with 1021. Hi-game for the women was 268 shot by both Donna Marcus and Stacy Timmer. Timmer, also had the high series for the women shooting 937.
Qualifying | Match Play Bracket
Full list of cashing teams:
1st place $900.00 Matt Sumoski & Justin Knowles
2nd place $500.00 Dennis Johnson & Mark Meinema
3rd place $350.00 Tim Raby & Brian Ivy, Billy Orlikowski & Charlie Brown Jr
5th place $260.00 Tom Cunningham & Scott Harmsen, Stacey Timmer & Mack Smith Jr., Robert Smith & Melissa Sullivan, Donna Marcus & Steve Marcus
The post Sumoski & Knowles Team Up To Win PBR Henry Fox Doubles appeared first on The Bowling Council.