Did you know that USBC has a mobile app?  The BOWL.com mobile app is a great way for USBC members to access their statistics, the latest news and more from their smartphone.
The app, available for Android and Apple phones, provides USBC members a simple mobile version of some commonly used BOWL.com functions including:
Direct link to personal statistics
Membership card
Find a Member search
USBC Rulebook
BOWL.com news feed
A few things to know to help you with the BOWL.com app:
Mobile app – what to know
The BOWL.com mobile app only is available to current USBC members. It only is available for Android and Apple phones; it is not available for Windows phones.
Please email bowlinfo@bowl.com should you have any questions.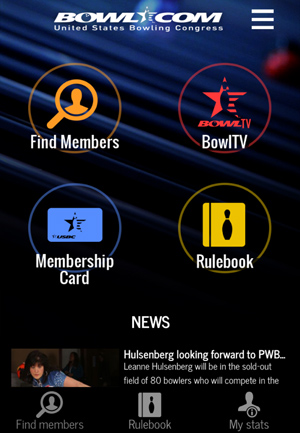 You will need a BOWL.com login
If you already have a login ID and password for the BOWL.com website, you can use it for the mobile app. Otherwise, you will need to create a login and password, which is easy to do on the mobile app.
Create a login
To create a login, you will need your member ID and your date of birth. If you don't know your member ID number, simply click "Forgot member ID?" link. Once you have filled the Member ID fields, scroll the fields to put in birth date,
then tap "Continue".
Confirm your email, provide a password
The email address tied to your member ID and birth date will populate in the first field, so you simply will need to fill in the Confirm Email, Password and Confirm Password.  Once you have filled the fields, tap "Continue". Please remember the email and password you created can be used to login to the mobile app and BOWL.com website.
Mobile app homepage
The mobile app has USBC's most popular links. It is key to note that at the
bottom-right there is a "My stats" icon that will display your statistics and any
achievements.