Welcome to the
Greater Grand Rapids USBC
Awards Banquet
The 2014 Awards Banquets will be held at Lincoln Country Club
The Adult Banquet will be June 19th. Doors will open at 5:30, and dinner at 6:30.
Dinner is free for tournament winners, who are welcome to bring a guest at no additional charge. If a tournament winner would like to bring more than one guest, they are welcome to do so for $22 each additional guest.
The Youth Banquet will be June 26th. Doors will open at 5:00, and dinner at 6:00.
Parents and/or guests of tournament winners are welcome to join for $15 each.
Bowling Council Elimination Championship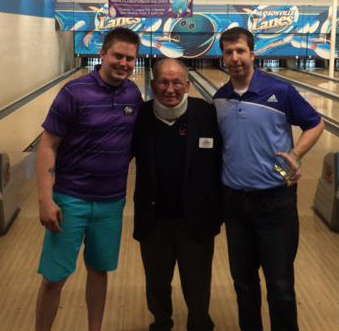 This event was held on Saturday, May 3, 2014 at Hudsonville Lanes. This was the final event of the season and was also the longest!! The format included qualifying of 6 games over 12 lanes. The field was then cut to the top 8 for eight games of Round Robin, PBA style match play. Bowlers earned an extra 30 pins for winning a match. The top 4 qualified for a stepladder finals.
For the 6 games of qualifying it took an average of 223 to make it to the first cut. Going into the round robin matches, Ryan Ross distanced himself from the field. Ryan went 6-2 in match play and averaged 229 for the eight games to earn the top seed.
Also qualfying for the stepladder finals was Aaron Groendyk qualifying 2nd, 3rd seed was Charlie Brown Jr. and 4th seed was Mack Smith Jr. The quarterfinal match featured Mack Smith Jr. defeating Charlie Brown Jr. 187 - 171. In the semifinal then Aaron Groendyk defeated Mack Smith Jr 258 - 208. In the Championship final Ryan Ross defeated Aaron Groendyk 220 - 198 to claim the title. Congratulations to Ryan for a great day of bowling.
1st place - Ryan Ross - $599 & plaque
2nd place - Aaron Groendyk - $350.00
3rd place - Mack Smith Jr. - $300.00
4th place - Charlie Brown Jr. - $250.00
5th place - Anthony Grochowalski - $200.00
6th place - John Slott - $150.00
7th place - Dennis Johnson - $100.00
8th place - Don Nyenhuis Jr. - $80.00
Championship Tournaments Updated
The Championship Tournaments have completed. We'd like to thank Spectrum for hosting the Youth, and Lincoln Lanes for hosting the Womens and Open Tournaments. The Youth, Womens, and Open events have unofficial Final Standings posted.
Open (4/19) | Womens (4/19) | Youth (4/19)
Email Newsletter available
Your association provides an email newsletter to help keep you the member informed on what is going on in the bowling community.

We are requesting any local member that is interested in receiving the
newsletter by email, submit your name and email address to
strikesrus@gmail.com
to subscribe to the newsletter at no cost to you.